Doctors & Staff
Meet the experienced and friendly doctors and staff who make Harbor Eyecare Center the leading provider of vision care products and services in Portsmouth.
Nikolas Moore, OD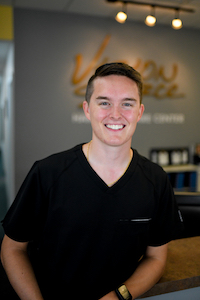 Harbor Eyecare Center is excited to announce the addition of Dr. Nikolas Moore. Dr. Nik graduated from The New England College of Optometry in 2020. His doctoral training included patient care at the VA in Bedford, East Boston Neighborhood Health Center, Lynn Community Health Center, Martha Elliot Health Center, and others. Dr. Nik is interested in neuro-optometry, ocular disease, and family eye care. "My goals are to treat patients with respect and compassion. I want patients to feel totally comfortable under my care and that of the staff here at the Harbor Eyecare Center. I enjoy thoroughly educating patients on their specific eye-related conditions and needs. Half of medicine is education; the more a patient understands the more they can actively make choices that will better their health. I want to share my knowledge with my patients so that together we can be informed and make better and wiser decisions about their ocular and general health."
Dr. Nik has spent most of his life in southern NH and loves living in New England. He likes to spend his non-work time outside exploring nature, whether it be hiking, swimming, boating, or fishing.
Dr. Nik will be working in concert with Dr. Amy for brain injury, neuro optometry, and binocular vision care patients. He is also accepting primary eye care patients of any age.
---
Rinita Trahan, OD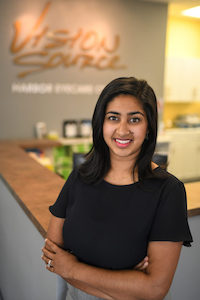 Dr. Rinita joined Harbor Eyecare Center in 2016 after graduating from the New England College of Optometry. Her doctoral training included ocular disease (glaucoma, macular degeneration, cataract, post LASIK) patient care at VA hospitals and community health centers throughout the Boston area.
Dr. Rinita has extensive training with custom contact lenses, including scleral lenses, orthokeratology, hybrid lenses, corneal rigid gas permeable lenses, custom soft contact lenses, and more. Dr. Rinita is passionate about myopia (nearsighted) control in children and teens, with training in the most up to date techniques and options. She also provides infant evaluations as part of the American Optometric Association's InfantSee program.
"I love learning all of the ways that a person's vision is unique to them. This can be related to their daily tasks, hobbies, ocular health, and so much more. It's a great experience to work together to determine the best visual outcome!" As a native of Nashua, NH she loves hiking and exploring New England with her husband. Dr. Rinita is accepting new patients of any age.
---
Sarah Hudson, OD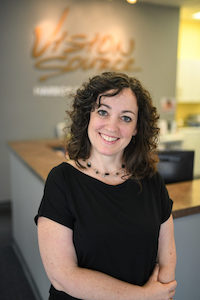 Dr. Sarah has more than 20 years of experience in primary eye care, pediatric vision care, multifocal contact lens fittings, and medical eye care. She attended the University of Vermont for her undergraduate work in Biology and received her Doctor of Optometry degree from the Pennsylvania College of Optometry. Dr. Sarah achieved board certification from the American Board of Optometry in 2013. She served as President of the New Hampshire Optometric Association for 2010. Dr. Sarah provides infant evaluations as part of the American Optometric Association's InfantSee program and is passionate about the growing field of myopia (nearsighted) control. She grew up in the northeast kingdom area of Vermont and has been in the seacoast area of New Hampshire since 1998. She partnered with Dr. Amy as co-owner of Harbor Eyecare Center in 2011 and became full owner in 2020.
"The personal connection I get from meeting and visiting with each patient and taking care of their eye care needs is the primary reason I love my career!"
---
Amy Pruszenski, OD, FCOVD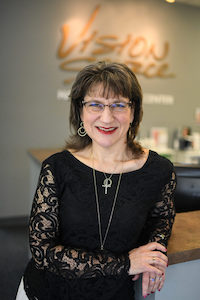 Dr. Amy received her bachelor's degree in cognitive science, specializing in vision science, from the Massachusetts Institute of Technology before receiving her Doctor of Optometry degree from the New England College of Optometry. Dr. Amy sees patients who have suffered concussions or brain injury on referral from other eye care or health care providers. She is passionate about working in concert with other providers to achieve the best outcomes for patients with complex needs. Dr. Amy also provides pediatric eye care, including addressing childhood learning-related vision problems. Dr. Amy is a past president of the New Hampshire Optometric Association, and recipient of the 2005 NHOA Optometrist of the year award. She has served several years as president of the Portsmouth Lions Club. Dr. Amy oversees vision therapy and visual rehabilitation at Visual Victory Training, also located in Portsmouth, NH.
---
The Harbor Eyecare Center Team
Our Office Manager Debbie, Receptionists Taylor C, Nichole, and Olivia. Opticians Aaron, Scot, Ginger, and Lisa. Technicians Kristen, Maile, Andrea, and Suzie. Contact Lens Coordinator Meghan. Marketing Coordinator Bocar. And our Insurance Verification and Prior Authorizations Coordinator Meredith. Please do not hesitate to ask any of these team members for assistance with any of your eye care or vision concerns.